Automatic library card for every child in Wales
January 16, 2015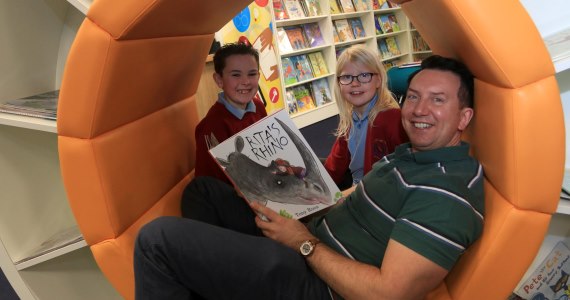 Welsh libraries and primary schools are joining forces to provide every primary school child with a library card. The Welsh Government is supporting a campaign to make sure every child in Wales becomes a member of their local library.
As he prepared to launch the initiative in Denbighshire on January 15th in Prestatyn and Rhyl Libraries, Dr Rhys Jones – best known for his hit BBC series including 'Rhys to the Rescue' and 'Dr Rhys Jones's Wildlife Patrol' said: "Libraries are such an important resource – they are a great place for children to let their imagination grow and to develop and it is vitally important that we encourage our children to read more not only to improve their literacy levels but also to help them with life skills and future opportunities."
On Thursday, pupils from Ysgol Clawdd Offa, Prestatyn and Ysgol Llywelyn, Rhyl will be visiting their local library to meet Dr Rhys Jones, to receive their new library cards and bags to carry their books home. They will also take part in a creative session to spark their imaginations ac will choose and borrow books to read at home.
Bethan M. Hughes of Denbighshire Libraries said, "The scheme targets children in Year 4, and our hope is to ensure that every Year 4 pupil in the county is a library member before the end of the school year. A very high proportion of Denbighshire children are already members as a result of many years of libraries and schools working together. However, many children have not yet joined and discovered all the books and other services available to them, free of charge, in the library to support their development as readers and learners, and to have pleasure and fun. We hope that this automatic enrolment will give all our children the opportunity to be a library member and encourage parents to enable their children to visit. Research shows that children who join and use their library regularly and read for pleasure become more confident and skilled readers and learners."
Use your local library to access the amazing range of services including:
FREE fiction, non-fiction, graphic novels and talking books
FREE homework help – online and in the library
FREE e-books and e-magazines
FREE computer use and internet access
Clubs, events, activities and classes in the library
Friendly, helpful library staff
Somewhere safe to meet friends
This initiative is targeting year 4 pupils in 16 Welsh authorities: Blaenau Gwent, Bridgend, Carmarthenshire, Conwy, Denbighshire, Flintshire, Gwynedd, Merthyr Tydfil, Monmouthshire, Neath Port Talbot, Pembrokeshire, Powys, Rhondda Cynon Taf, Swansea, Torfaen and Wrexham. This initiative supports the Welsh Government's "Education Begins at Home" campaign which encourages parents to help their child at home by making time to read which can help their performance in school.
For more information please visit: www.welshlibraries.org/schools