ACCESS YOUR LIBRARY WHEREVER YOU ARE
November 25, 2015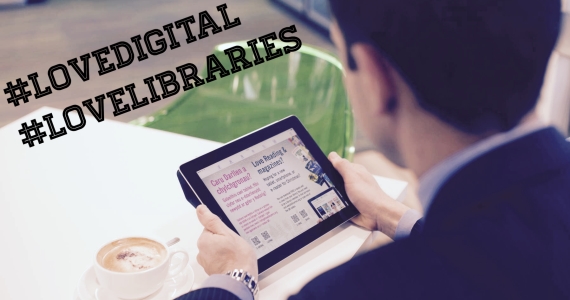 This week libraries in Wales are highlighting their amazing digital services.
From free downloads, free wifi and free family history resources to a wide range of courses and drop-in sessions to help you get online, use an iPad or learn new skills, libraries can help you access a wealth of digital services and save you lots of money.
Across Wales, libraries host an average of 1000 digital sessions every month attended by around 10,000 people of all ages – sessions include job clubs, iPad drop in sessions, local and family history searches, social media skills, internet safety and coding clubs.  With Christmas coming some libraries will be running online shopping courses to show you how to get the best deals.
Ken Skates AM, Deputy Minister for Culture, Sport & Tourism commented: "I'm really excited about the #LoveDigital campaign which is taking place inside, and outside, libraries across Wales. Libraries provide access to culture, information and learning in many formats. Whether you're a digital expert or have yet to experiment with the digital world, libraries have something for you, and staff who can help you.
"Libraries have been keeping up to date by investing in digital services and I encourage everyone to try out a new digital service this week, in public and academic libraries. I'm pleased that Welsh Government support has broadened the range of services available so that everyone can enjoy digital services and save money."
For the avid readers there are over 25,000 e-books and more than 4000 e-audio books with titles suitable for children, teens and adults – great for when you are out and about.
Do you spend more than you should on magazines?  Why not browse our collection of more than 200 top magazine titles including BBC titles, top health & fitness publications, gossip magazines – whatever your hobby you are more than likely to find something relevant to you and they are all available to download for free.
Whether you are an avid reader or a digital dinosaur your library can offer you a whole range of new online services many of which are available 24/7 – you can even join online and for everyone that joins this month there is the chance to win an e-reader.
Find out more at welshlibraries.org/lovedigital