15 August 2018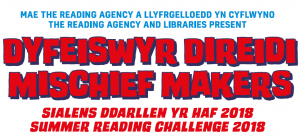 Kirsty Williams AM, Cabinet Secretary for Education, Welsh Government, officially launched the Challenge in Wales at Merthyr Central Library, Merthyr Tydfil on Monday 16 July 2018. She was joined by local school children from Ysgol Gymraeg Santes Tudful, Bedlinog Community Primary School and Caedraw Primary School who also enjoyed captivating sessions with author Eloise Williams and illustrator Huw Aaron.
This year's Summer Reading Challenge is Mischief Makers; celebrating the 80th anniversary of the much-loved comic, Beano.
To take part in the Mischief Makers Summer Reading Challenge, all children need to do is to head to their local library where they will be given a colourful collector's map of Beanotown to keep a record of their reading journey. As children read at least six library books over the summer, they will collect stickers which will help them crack the clues and help Dennis, Gnasher and friends find the buried treasure!
Research shows that reading for pleasure is a more powerful factor in life achievement than socio-economic background[1] and that children who use libraries are twice as likely to be above average readers.[2] The Summer Reading Challenge builds confidence and independent reading, while helping to prevent the dip in children's reading levels during the long summer break from school and is endorsed by parents, teachers and the Welsh Government.
The Summer Reading Challenge, a unique partnership between The Reading Agency and public libraries across the UK, last year got over three quarters of a million children borrowing, reading and talking about their favourite books.
Support from the Welsh Government is crucial to the success of the challenge in Wales. Organised by independent charity The Reading Agency and delivered by public libraries, the Challenge is supported in Wales by the Welsh Books Council and the Welsh Government. Now in its 20th year, the Summer Reading Challenge in libraries is the UK's largest reading-for-pleasure programme for children of primary school age. Last summer, 38,066 children in Wales (43% of them were boys) took up the challenge to read six books or more at their local library; and Wales is the only nation in the UK in which 100% of local authorities take part.
Children can use the special website mischief-makers.org.uk to create a profile, chat about books, and get help on what to read next, via the digital Book Sorter which already offers over 600,000 peer to peer children's book recommendations in child-friendly categories. 
The Summer Reading Challenge reaches children and young people of all ages. For pre-schoolers there is a mini-challenge while young people (aged 13 to 24) can volunteer and support younger children taking part, as part of The Reading Agency's Reading Hack programme.  Volunteering provides a quality workplace experience for young people in libraries, inspires them to think about their future career and increases their employability as they gain useful life skills and confidence. Last year over 7,500 young people across the UK volunteered.
For more information on the Summer Reading Challenge including how to get involved and resources for schools, go to www.readingagency.org.uk/summerreadingchallenge
Follow the Summer Reading Challenge at www.facebook.com/SummerReadingChallengeUK  and  on Twitter @readingagency #summerreadingchallenge
[1] Sullivan a Brown (2013) Social inequalities in cognitive scores at age 16: The role of reading
[2]  www.literacytrust.org.uk/news/2984_children_who_use_the_library_are_twice_as_likely_to_be_above_average_readers